solution

Watershed Wastewater Management Program
Complete & Proven Web Based Watershed Management Software Solution
Watershed Wastewater Management Overview
Over the past decades, watershed management laws have been established in public watersheds across the United States. From rivers, lakes and to oceans, these laws are declared to preserve the purity and quality of shared bodies of water. The existence of these laws is essential for facilitating healthy ecosystems and providing water safe for human use and recreational activity. The challenge with enacting this legislation comes the management of potentially diverse laws across multiple communities and municipalities that reside in a given watershed. Ideally, communities unify into a single cooperation towards watershed management. Usually, this involves the union of several towns, cities, or regions which share a single body of water. To prevent inconsistencies among this type of collaborative reporting, and increase organization of this vast amount of collected data, it is key to implement watershed management software. DSD Web Works has created such software that simplifies the organization of complex systems and allows for both ease of access and management.
Organization of Watershed Wastewater Management Data
Every watershed management system deals with immense amounts of data and documents. The watershed inspection software created by DSD Web Works is database driven, allowing for superior organization of a vast amount of information. The organization of data is vital in order to enforce watershed legislation, detect violations, distribute permits and maintain accurate information on all sources entering the watershed. With the database driven software created by DSD Web Works, information is not just organized, but also easily acquired, updated, and reported ensuring that all watershed information is accurate to date.
Watershed Wastewater Management Program - Web Application
DSD Web Works offers a custom web application solution, which means that is cost effective, reliable, and can be accessed and used anywhere there is access to the Internet. This open source application makes addition and manipulation of data easy both in and out of the field, ensuring that the most up to date, reliable information is always available. In addition, the web solution boasts all the benefits of an open source application: no program installation required; no software or hardware dependency (any device with a browser to the Internet); personalized security settings; and customizing to specific user needs.
Watershed Wastewater Management Program Software – DSD Web Works... making solutions that work.
DSD Web Works Watershed Management software features images, maps, and user friendly interfaces that are second to none. The ease with which complex configuration of systems can be simplified making this software ideal for rural areas sharing a single body of water. However, this application will help any watershed management system with inspection operations and organizing information, cost effectively and with minimal effort. The Watershed software created by DSD Web Works makes watershed management simple, accurate, and logical.
Watershed Wastewater Management Program - Web Application Reports
Inspection Report
Inspection Due Report
Violations Report
Permit Report
ETU Report
Area Overviews
Reports are quite flexible and are easily altered by date range, geographic location, by type (e.g. violation type, permit type, etc.). In addition, reporting tables are easy to read and sortable by a simple click of a given header. Details of listed properties in a give report are easily viewed by clicking on a that specific row or on the 'details' link.
Watershed Wastewater Management Program - Web Application Administrative Functions
Add/Edit Property Owner
Add/Edit Property
Add/Edit Absorption Area Type
Add/Edit Alt Device Type
Add/Edit ETU Brands
Add/Edit KWIC Unit Use
Add/Edit Lateral Media
Add/Edit Material
Add/Edit Municipality
Add/Edit Permit Type
Add/Edit Pump Manufacture
Add/Edit Pump Type
Add/Edit Standard
Add/Edit Admin/Inspectors
Add/Edit Vendors
Real Property Data Upload
The system has a built in cross checker for property ownership. Does the database match real property? The system is intelligent and answers that question on the fly which allows the inspector or other authorized personnel to update owner information with county/town real property data or ignore. In case of real property transfer (a property sell), the watershed data may be more accurate. Our system has the built in flexibility for this situation.
Watershed Wastewater Management Program - Web Application Inspector Functions
Create Evaluations
Create Permits
Create Violation
Create Inspection
Add/Modify Connecting Structure
Add/Modify System
Add/Modify Septic Tank
Add/Modify Holding Tank
Add/Modify Pump Tank
Add/Modify ETU
Add/Modify Absorption Area
Add/Modify Alternative Device
Add/Edit Images (localized to a system, connecting unit or component)
Add/Edit PDF (localized to a system, connecting unit or component)
Watershed Wastewater Management Program - Web Application Component Relationships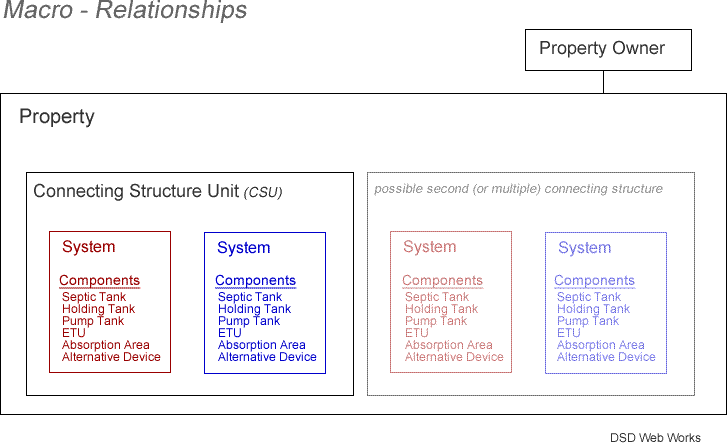 This means that a given property can have multiple connecting structures associated with multiple systems that contain multiple components. All of these elements can be shared either across connecting structures, systems or even properties. We have essentially simplified the complexity of watershed management.
Watershed Wastewater Management Program - Web Application - Simplified
The true beauty of our watershed management web application is the simplicity of the user interface. Properties are found using a unique 'instant' tool that displays properties based on last name, street number, street name or tax map numbers. The display is live, meaning it interrupts the key strokes instantly. For example if we search for a property by owner's last name and type a 'd', all last names that start with a 'd' appear instantly. Then we type 'e', now the list is instantly filtered for 'de'. Next a 'm', again the list is instantly altered to reflect all last names that are 'dem', etc. Same would be true using any of the other variables.
A simple click on the list for the given property brings up a single property details page that displays all relevant information in a very easy, intuitive manner. All functions are also contained within this same display allowing for easy manipulation from a single view.
Interested in Seeing Live Demonstration?
contact DSD Web Works, Inc.